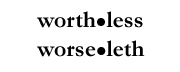 Mariah was tired the other night. Trying to convey the extent of her fatigue and its effect on her overall functioning, she said, "I'm pretty worseleth."
Of course, she meant to say worthless, but she transposed—spoonerism-style—two parts of the word, producing a pretty awesome neologism, one that was way more descriptive of her current state than worthless.
We were both a little slap-happy at that moment, and worseleth threw us into hysterical laughter.