Idiocracy. Children of Men. Now WALL-E.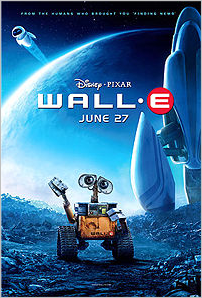 Is it me or are there more dystopian movies being made? Heck, even Disney is making them now.
Here's Wikipedia's plot summary of WALL-E. Note the none-too-subtle social commentary:
In the 2100s, the megacorporation Buy 'n Large has assumed every economic service on Earth, including the government. Overrun by un-recycled waste, the planet eventually became so heavily polluted that it could no longer support life. In an attempt to keep humanity alive, Buy 'n Large sponsored an exodus to space aboard hundreds of massive "Executive Starliners," the largest of which is the Axiom. Thousands of adaptable robots known as WALL-E (Waste Allocation Load Lifter-Earth-Class) were left behind to clean up the planet. However, seven hundred years later, only one WALL-E (Ben Burtt) remains operational. The planet is still covered in trash, arranged by WALL-E into neat towers. After centuries of living in micro-gravity, the humans aboard the Axiom have lost considerable bone and muscle mass, rendering them too obese and weak to stand or move without robotic assistance. Every task is now automated, including piloting the ship, which is handled by the autopilot AUTO (voiced by the program MacInTalk).
[Looking for Mike Judge in the credits ... ]
Apparently WALL-E is doing incredibly well at the box office—a mystery if there ever was one, since summer movies (well, movies in general) are usually more about temporary escape from social ills than satirical commentary on them. I suspect kids are dragging their unwitting parents to see the movie.