If you have not had the pleasure of drinking a Manahattan, now, as cold weather sets in, is the time to indulge. This whiskey drink will warm your core.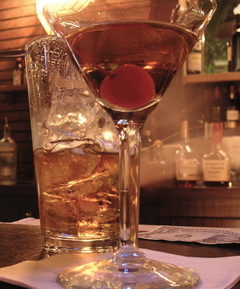 Here are the ingredients:
2 shots bourbon
1 shot sweet vermouth
1 dash of Angostora bitters
1 marachino cherry
Mix with ice, strain into glass.
And feel free to deviate from the proportions listed here. Provided it tastes good to you and includes all of the above ingredients, there's no wrong way to mix a Manhattan.
Caution: this drink is quite strong. Unless you imbibe frequently and/or have a hefty avoirdupois, limit to two if you plan on operating heavy machinery (a car, for example) afterward.
And be sure to ask for it "up" when ordering at a bar.